Add style and functionality to your space with the right stool size.
Barstools offers easy and efficient seating weather you are in a kitchen or a game room. There are four common heights for bar stools: table height, counter height, bar height, and extra-tall bar stools. Use this guide to choose the bar stool height that best suits your space.
First, measure the height of your counter or table, starting from the floor up to the bottom of the tabletop. The chart below lists the average surface height of tables and the proper height of bar stool you will want to pair with your table. Use this height chart as a guide while you shop.

Short/Table-Height Stools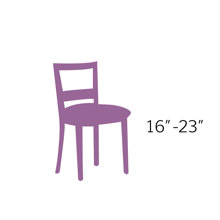 Table-height stools are shorter than counter or bar stools and can be a good alternative to chairs at a dining table or breakfast nook.
Generally between 16 and 23 inches tall Offers a casual look; often without backs Great choice for small children and kids' seating.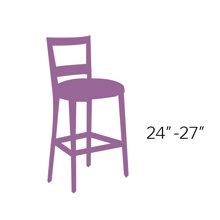 These stools are the ideal height for a 36-inch counter or to have on their own for extra seating. Counter-height bar stools are smaller than the typical stool you see in restaurant or bar, but are a great addition to your home bar or kitchen space.
Popular option for kitchen islandsEasy to use for most people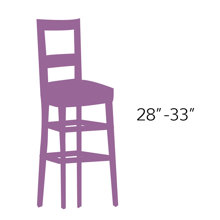 A 30-inch stool is the perfect height for a standard 42-inch bar or counter top. Bar-height stools are also ideal for a work space, like the garage. These are the same size stools you see in a restaurant or bar and are taller than the average dining chair.
Ideal for standard built-in barsVersatile option for kitchen seatingNot ideal for small children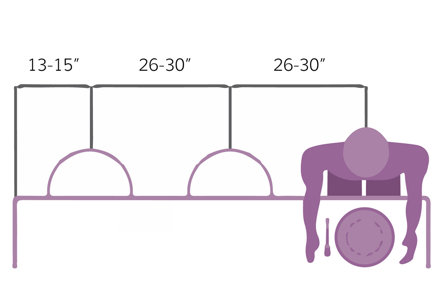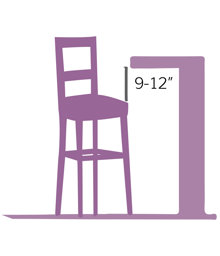 Other measurements to consider when choosing a bar stool are the spaces between each stool as well as between the stool and the surface height.
For stool spacing, look to have about 26 to 30 inches measured from the centre of one stool to the centre of the stool next to it. This allows for optimal space for eating, working, and socializing.For leg spacing, account for 9 to 12 inches between the stool seat and the underside of your countertop or bar surface.